04 Jul

Novice to Atom
Novice to Atom: 5 Important Transitional Game Changers
When going from novice to atom hockey, every parent must be aware that:
1) Lateral movement is a must: It really is all about the outside edges. Players from Novice to Atom have just spent the last 3-4 years mastering forward speed and are reluctant to give up their inside edges. Inside edges are stable and comfortable. You only have to consider how proud they are when they are first able to skate without the inside of their boots dragging along the ice, to understand how difficult it is to get them to totally flip the boot around the other way so that the outside of the boots are touching the ice! As defencemen begin to hone in on their backward angling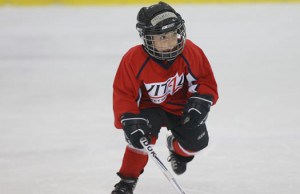 skills, going at them full speed in a straight line with the puck is futile. Players need to understand that a small bit of pain in learning to roll instantly onto an outside edge, for a few extra geno's and apples each year (goals and assists for the hockeyolingustically challenged).
2) Seamless transition from forward to backward is increasingly important. Watch any player go from forward to backward and you will see 2 things; a hard stop and a little guy waving his arms feverishly to get going again! As passing skills improve and the puck begins to really change direction quickly between novice and atom, so does the need to swing the hips out and change direction without causing friction or losing any of the players forward speed and momentum. Combine this with some great outside edge work and instant activation of backward crossovers and you got one heck of an impressive kid at tryouts!
3) Letting the player get coached by the coach first is more than necessary as coach-ability begins to determine ice time. Just in case you are wondering, Novice to Atom is a great time to start to let go mom and dad! It has been a great ride so far, and yes it still will feel like every mistake he or she make out there reflects you as a parent, but nothing you say or do will stop them from making those mistakes. Parents spend a lot of money in today's game of hockey, so they are still consumers and are allowed to question, but that does not give them a license to coach. All a front seat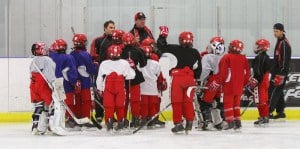 coach (AKA parent who can't stop color commentating the whole ride home) does is increase anxiety and frustration in a young player. These are 2 things that are directly linked to narrowed vision on the ice and burnout. Be the moral support, make sure they always see you in the stands with a smile and let the coaches coach.
4) Like homework, it is important that the player sets time aside daily to work on skills at home. Many parents always tell me how they never have to tell a player twice, they love hockey so much that all they do is shoot in the basement. Self-motivation and passion are great traits for any student, but shooting in the basement wrong over and over is not doing any good. The best bet would be to let them start on their own and then casually go down for a bit and join in. Not every parent has to be an expert either. A lap top and a wifi connection does wonders as you can search a number of hockey skills videos appropriate for Novice to Atom players and follow along together.
5) Pre-Game preparation is a habit that must start early. Most parents don't realize that playing consistently well starts hours before the game. The media always highlights the little quirks that players have before games and they dismiss them as superstition, but the truth of the matter is all of the little things a player does consistently before games lays the foundation for a structured environment necessary to achieve optimum focus. In other words, playing great is the sum total of all things a player intentionally does the same before each game in order to replicate past performances. Players need to start experimenting young with pre-game routines so that they can get to know what works for them.