Summer Hockey Camp in Toronto 
Location:
Vaughan Sports Village (2600 Rutherford Rd)
Cost: 
Monday to Thursday (16 hours on ice weekly): $600 + HST For 1 Week
Get $20 off your 2nd week
Get $30 off your 3rd week
Get $40 off your 4th week
Get $50 off your 5th Week
* Multiple week discounts are applied cumulatively throughout the checkout process
** Please email [email protected] for Sibling Discount (same household) and Group (6 or more players joining together) coupon codes to be used at time of checkout
The Vital Hockey Skills summer hockey camp in Toronto is about one thing… Improvement!
We are committed to delivering the intense focus on technique and explosiveness that are vital to players at any age or caliber for the summer of 2022.
The camps, located in Vaughan, Ontario, have a high focus on technique and repetition and are structured so that each student can work at their own pace in an uncluttered environment. Our camps are optimal for 2016-2009 born players and caliber is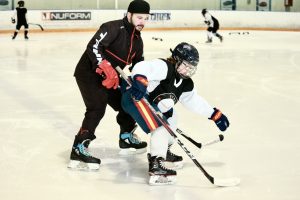 not an issue since there is such a high focus on technique! The instructors demonstrate and students repeat the techniques to increase strength and coordination daily. The camps feature a unique European structure where players work at their own pace getting stronger in key areas that are sure to have been neglected these last few years.
Join us for the most well rounded, improvement oriented curriculum out there!