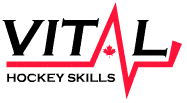 Where:
The Sports Village
When:
Tuesday December 26th to Thursday December 28th, 2023
AND
Tuesday January 2nd to Thursday January 4th, 2024
Cost:
$372.90 for the 3 day/6 hours of ice (HST Included)
Week 1 and 2 $678 (HST Included) for 6 days/12 hours of ice ($145 Discount):
Email vitalh[email protected] for Sibling discount and Group Discount Codes
*Groups must be six or more to qualify for a discount code
Groups:
Group 1 (9:15-11:15 AM)– House League/Select 2019-2015
Skating and Puck Handling Technique and Shooting
This group is designed for players looking to excel technically on their current skill base. Instructor demonstrations challenge players to emulate what they are seeing, and instructor feedback allows them to continue to learn and perfect their technique. With a strict focus on repetition in skating, puck handling and shooting technique, this camp gets results!
Group 2 (11:15-1:15 PM)- A-AAA 2016-2009
Skating power, agility and advanced game situational skills
This camp caters to advancing the skill set of those players with a strong technical base and allowing them to connect the skills into game play scenarios. Intense, and focused on explosive improvement, this camps is sure get the heart pumping and legs burning.