Young Skaters Hockey
How do you develop young hockey players?
It's not by random pylon drills that's for sure. Getting "a good sweat" doesn't lead to the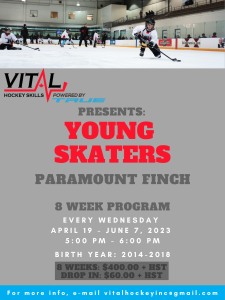 improvements necessary to be successful at hockey. There's a big difference in having your child attend opportunities to PARTICIPATE and signing them up for opportunities to LEARN.
The YOUNG SKATERS program is an 8 week program with IMPROVEMENT at the heart of every activity.
With instruction based on modelling, demonstration, repetition and immediate feedback, the students will Observe, Imitate and Refine (the OIR method is trademarked by  Vital Hockey Inc.) their skills over the 8 weeks period.
Over 26 years in business, we take improvement seriously at Vital Hockey… it's no wonder hockey parents say IMPROVEMENT IS VITAL!